Aleksandra Gosiewski recently graduated from the Fashion Institute of Technology in New York but her interest in sustainability began quite a while ago. Today, as the co-founder of AlgiKnit, a research group determined to provide alternative solutions to the fashion industry, in terms of materials that manage to respect the environment as well as the user more than ever before, Aleksandra  shares these ideas and sources of inspiration with Ethical Ode. 
Andriana: Dear Ms. Gosiewski, we would first of all like to thank you for your time. We would very much like to begin by discussing your career pathway so far. Has fashion always been your dream job? Is it something you always wanted to pursue?
Aleksandra: I always loved the idea of making things and creating. My dad used to bring blueprints at home – he works in business development-, and I enjoyed looking at them and watching his whole work process. That got me really excited, watching things being made, so I was around this influence from a very young age. I found this translated well for me in fashion; from sketch to final product.
Andriana: You enjoy the creative process the most, then?
Yes, I like it the most and it gets very emotional and thoughtful for me. I must say, though, that my decision to go to fashion school surprised a lot of people, but it came pretty natural to me.
Andriana: What were they expecting you to do, something entirely different?
Yes! Most expected me to go into something more analytical, like science or business, but I always wanted to follow something more creative and I also used to take weekend courses at FIT to be better prepared.
Andriana: How did your studies turn out for you? Were they everything you hoped for?
Aleksandra: Well, the first 2 years were quite difficult. At times I almost felt I questioned my choice, but still I continued and now I have completed my Bachelor's degree in fashion design.
Andriana: What created these doubts?
Aleksandra: At times I felt it wasn't realistic, I mean we were creating such beautiful things but we didn't really learn everything about the industry. I used to think, "This isn't what it's like". But then, as I was entering the 3rd year, there was a project called The Bio Design Challenge that truly inspired me. I immediately saw that it was the perfect way to bring my interests together for fashion, sustainability and biology and this was exactly what the project was based on – an intersection of science and design. I thought that I have to be a part of it. So I entered the contest and I was assigned the biomaterials section along with the rest of the team. We ended up winning that year, so we entered the finals in the National Challenge and we ended up winning that too. This ultimately led to the creation of AlgiKnit.
Andriana: So, would you say that this contest kind of shaped your perspective? Is that when you discovered your interest in sustainability?
Aleksandra: Actually, I was always interested in sustainability, but the contest was the main drive, yes. You see my parents always have felt very strongly about recycling and using the full potential of all materials, so I've had this influence from childhood.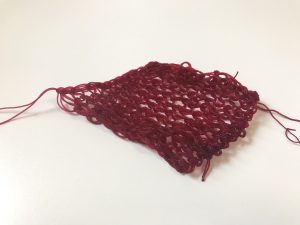 Andriana: And that is so important! Could you tell us more about AlgiKnit, the research group you have co-founded? It focuses on aiding the footwear and apparel industries by creating materials with a lower environmental footprint?
Aleksandra: At this point we are continuing our research on naturally occurring adaptable organisms. Our main goal is to eliminate toxins, gas emissions and chemical byproducts which are damaging for the environment. I take lead on different projects and I get involved in how things are made. We work intensely in order to understand the material and its capabilities, because we believe that without knowing the material you cannot fully understand its possible functions.
Andriana: Sustainability is your major focus, as well as the use of biomaterial and natural dyes. Would you say that this choice is something that will inevitably prevail in the near future?
Aleksandra: That is difficult to say, it is hard to predict what people will want. At this point the public is really attracted to refurbished recycled textiles, but when our material is out in the market, it is possible that people at first won't know how to react to it. But I would like to see this evolve in the future. It would be great if all of us developed an understanding of this kind. Most people don't realize the impact of certain practices, how pollutive and destructive the fashion industry is. I mean, one may investigate the statistics for fun, but few are actually aware of how important they are.
Andriana: At which stage is your research as we speak?
Aleksandra: Right now we are working on different projects. Our main goal is to create something strong and feasible, and our last strength testing on various versions of the material showed that is comparably stronger than wool and slightly weaker than cotton, but these results change significantly during the course of research. It is really a full time engagement and it was difficult for all of us involved to find the necessary time but we did it and we will continue experiments on natural materials. We seek to create a close loop, where materials can regenerate to produce the next generation of materials. We must not forget that every time a product today is used and thrown away tons of toxins are released, as well as green gas emissions, so we believe it is absolutely necessary to find an alternative.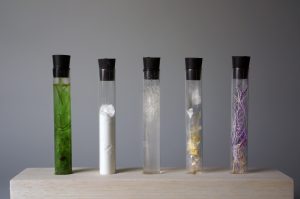 Andriana: Mentioning that, we gather that fast fashion is something you must feel opposed to?
Aleksandra: That is a good conclusion, yes! Fast fashion dictates that a product is created to be worn once and thrown away and that is truly a shame. A lot of work goes into each piece of clothing, and one should take under consideration the ethical issues involved, especially for products that are being produced in underdeveloped countries. What are the working conditions there? What is the true shipping and environmental cost of it all? Instead of buying a graphic T-shirt you will throw away after a few months, why don't you print something on it that relates to you only, that you will have a connection with?
 Andriana Sakka  Editor-in-Chief