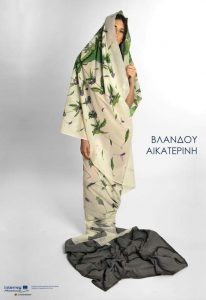 Katerina Vlandou is 23 years old and comes from Larissa. She has a degree in Special Education from University of Thessaly and a degree in fashion design from DIEK Volou. She has participated in various national competitions. Her occupation as a special education teacher has affected her perspective deeply and has shaped her artistic identity.  Psychology and human experience are used as inexhaustible sources of inspiration and creativity in her art work, with the most recent example her participation in the Creativewear competition with the title The Real Fashion Victims.
 In early November 2017, news broke in Istanbul that people found messages sewed on their clothes, which they bought from the fast fashion brand Zara.  The messages contained complaints about the company refusing to pay its workers. This incident that occurred in our neighboring Mediterranean country inspired her to find a way to protest for all the people that suffer because of the way the fashion industry works today.
  Her goal is to communicate the need for change via two garments that are meant to trigger a spectrum of emotions to the observer. Curiosity, sadness, guilt, rage, hopelessness, entrapment and maybe finally personal responsibility, are some of the emotions she hopes  to awaken
 On April 24, 2013 the eight –story Rana Plaza building outside Dhaka, Bangladesh collapsed, killing more than 1,100 people and injuring thousands of others. At the time, the building housed five garment factories that manufactured goods for major retail companies in Europe and North America.
 This event is the inspiration for the first garment, which is designed to honor the victims of this tragedy.
 The design features a sari, which is a traditional costume in Bangladesh. It is a draped garment of unstitched cloth worn by women in the Indian Subcontinent (India, Pakistan, Bangladesh, Sri Lanka, Maldives and Nepal). The draped fabric varies from 4,5m to 8m in length and from 60cm to 1,20m in width.
 The pattern on one end of the sari is part of the collapsed building that dissolves into little fragments that float towards the middle of the cloth. When the fragments reach the middle of the sari they start to change color and as they reach the other end of the cloth they form a plant known as the tulsi, or else the holy basil.
 This beautiful plant has medicinal and religious importance for the people of the Indian Subcontinent. In Hinduism, it is believed that water mixed with the petals given to the dying raises their departing souls to heaven.