A major exhibition with 18 pavilions takes place in Texnopoli at Gazi. You can remember( if you were born before 80's) important incidents of the 80s, objects, documents, memorabilia, photographs, music,magazines and fashion.
Some pictures help to understand what is going on over there.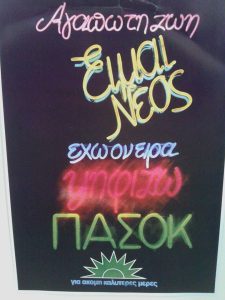 A political ad calls the youth to vote in favour of ΠΑΣΟΚ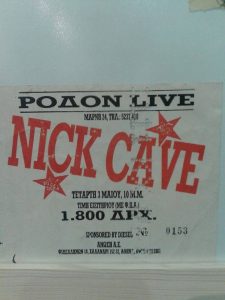 ΡΟΔΟΝ was the venue that opened the way Greece to important bands of foreign singers and groups.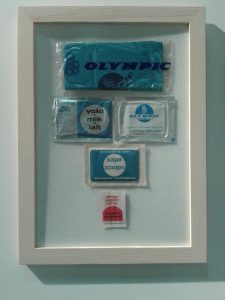 What can you say about the mythical Olympic Airways?
The legendary PONY car was fantastic for holidays !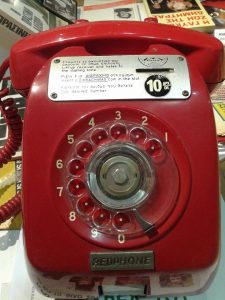 It takes only GRD(drachmas) as the euro had not yet invented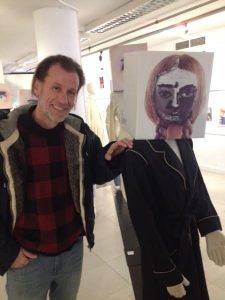 Fashion and Art could not but be there.The artworks of Irini Karayannopoulou joined with garments of 80's curated by Efie Falida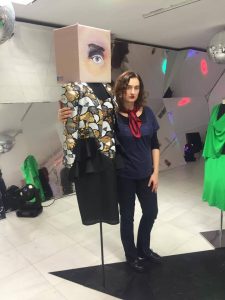 Irini Karayannopoulou in front of sequin dress
style odyssey : what is the first thing that comes in your mind at the hearing of the word 80's?Irini Karayannopoulou :Sequins! The more they shine the better. They are everywhere, in different colors, shapes and ways, they are moving, they are shaking, they are talking and they come in heavy doses. They go really well with mullets and other spectacular 80's curiosities such as hair perms, hair highlights, white socks and stonewashed jeans
style odyssey :do you consider that Greek 80's had their own identity? Irini Karayannopoulou :I am sure that the Greek 80's were more 80's than any other 80's around, in fact they still are
style odyssey: tell me about a memory from 80's that has stuck on your mind? Irini Karayannopoulou :Roller and ice skating twice a week
style odyssey: tell us in brief about your presentation here…
My work is on view at the Disco Fashion department of the GR80's exhibition in Technopolis. I am showing a female cyclop with full eyeshadow and mascara in company of a little orphan with plaids. Both works are part of the YOU AM I series.You can find out more about this project on my website Karayannopoulou.com