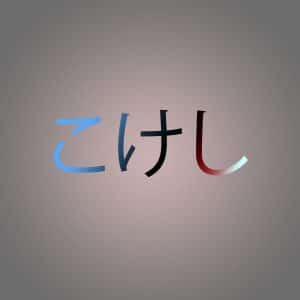 Kokeshi  written in Japanese
The artistic campaign of  Lemon Poppy Seed makes me think that beauty can overcome any kind of stereotype. Dimitris Grammaticoyiannis
Photos :   Yiorgos Mavropoulos
Stylist :   Dimitris Grammaticoyiannis
Make up :    Chris Mazurek
Concept&Hair : Lemon Poppy Seed Team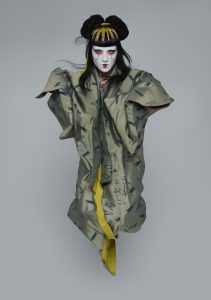 Kimono QueenCalliope ( Ηροδότου 9, Αθήνα /09  Irodotou str., Kolonaki Athens
Kokeshi (こけし, 小芥子 kokeshi), are simple wooden dolls with no arms or legs that have been crafted for more than 150 years as a toy for children. Japanese dolls, originally from the northeastern region (Tōhoku-chihō) of Japan. They are handmade from wood, have a simple trunk and head with a few thin, painted lines to define the face. The body often has floral and/or ring designs painted in red, black, and sometimes green, purple, blue, or yellow inks, and covered with a layer of wax. One characteristic of kokeshi dolls is their lack of arms or legs. Since the 1950s, kokeshi makers have signed their work, usually on the bottom and sometimes on the back.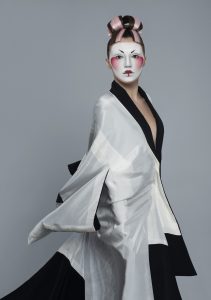 Kimono by ecostudio ( Myconian collections hotel Utopia )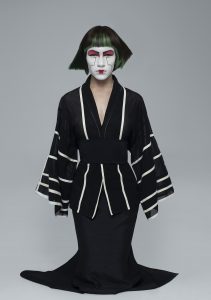 Kimono and skirt by Linea Imports S.A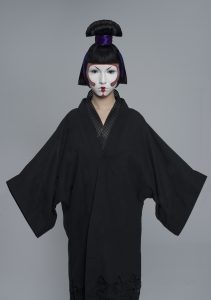 Kimono Kiriakos Paroutiadis Boutique ( 11 Alopekis, Kolonaki)
Furthermore, I would like to present some wooden Kokeshi dolls of Maria Ghisi, a Japanese miniature sculptor/ Glyptographer/ Early Asian Art restorer.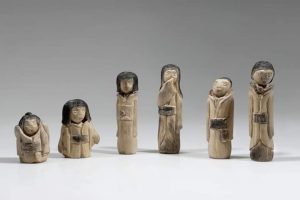 Maria Ghisi: Kokeshi dolls originated in the Tohokou region of Japan. In the north-east region's thickly  forested mountains full of hot springs, the craftsmen found their wood and created them during the long nights of the snow-bound winters.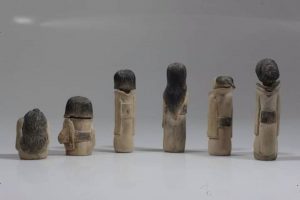 At first the Kokeshi were based on the tradition and later on the artist's creativity where developed with no restrictions on the design, color or inspiration as pieces of free expression .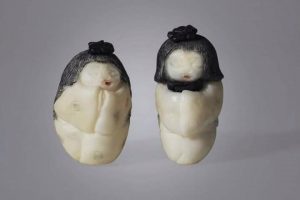 I had chosen to interpret the form of this religious toy or charm, or toy much loved for each simple artistry, as a tribute to the stoicism of Tohoku craftsmen, as symbols of continoues hope and courage, as tiny tokens of our love and friendship to our universal family and friends!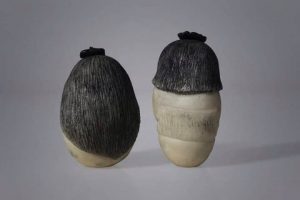 Each Kokeshi dolls has the name of one of the affected by the 2011 disaster, town.