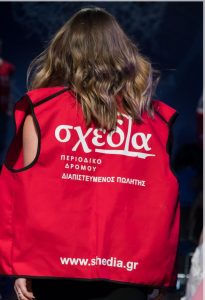 A fashion social motivated show with many designers took place at the Athenian Megaron Mousikis,organised by IPprojects. It was an evening filled of fashion shows with political and social messages. Greece has been in crisis almost for ten years and experiencing the longest period of recession, fashion couldn't pretend that is not visible. The risk was big but audience responded with applause and surprise when the easily recognizable red vests of ΣΧΕΔΙΑ-SHCEDIA (monthly magazine that helps fellow citizens to rejoin society), worn over the mosaic motif clothes of Pavlina Kyrkou (graduate of Theory and History of Art(2014), Athens School of Fine Arts and Psycology (2008), University of Athens.)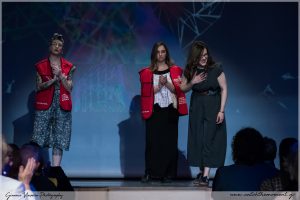 The backdrop of 3D mapping presented modern creators of fashion and visual arts. One of them was the Greek artist Adam Martinakis (3d digital image/rendering – animation, digital sculpture, digital video, new media).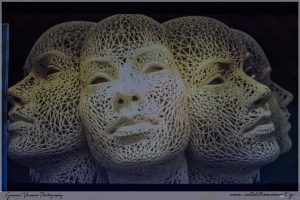 Marilena Kranioti (visual artist of Athens School of Fine Arts-ΑΣΚΤ) worked on a face-construction, creating an illusion of Adam Martinakis work, a tableau vivant.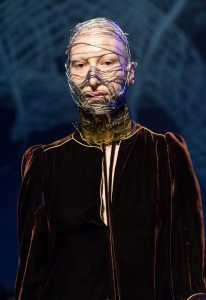 The artist Marilena Kranioti and her muse model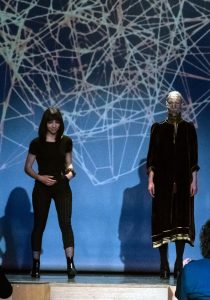 #Freethenipple was the message of Dimitra Elpasidou and band aid clearly implied the sexual harassment women suffering.
Emy Pappas affection for traditional techniques,headed her to make handmade-ornamended-pieces, as the sandals either Alchimia Vegan Shoes.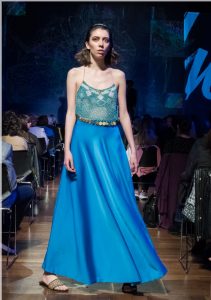 Dimitrios Konstantopoulos lined up within one of his collection stage jacket, hat republica from Karfil, pair of sunglasses Mujosh (30 C Eyewear Optimal Care).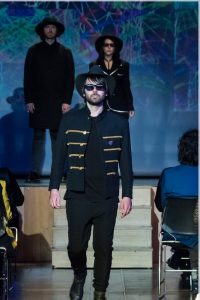 All these five designers had participated during Art & Fashion CreativeWear Exhibition in Athens School of Fine Arts the last November, with great success. Dimitris Grammaticoyiannis was the curator then and now had the conception of mixing their garments with social STATEments.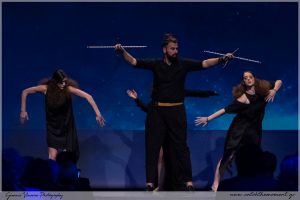 Marionettes was the title of PALCO show and Maria Ignazio Zairi (Artist of Athens School of Fine Arts and Tinos School of Fine Arts) made it true with the props she made. The hairdresser Στέφανος Κεσσάτης of Palco professional leading three amazing female dancers, enthused the audience. Make up artist:Edmea.
Alexandra Apsokardou & Desotnia Kilakou made a clear reference to Burning Man Festival under the title Leave no Trace.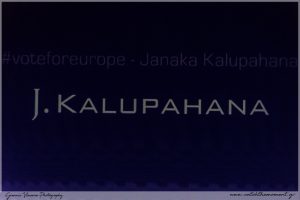 #voteforeurope
J.Kalupahana's show stood out with a very strong and democratic message. We all together fight for a Democratic and united Europe!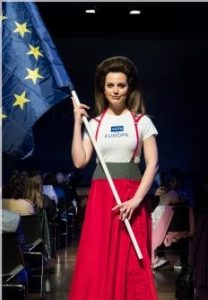 Europe is on jeopardy! Red color implies the fragility of Europe
A Temple for SouL
Dimitris Grammatikoyiannis' presentation of symbolic dresses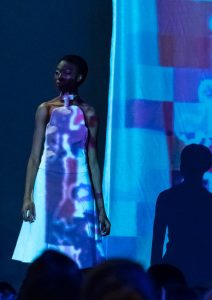 Female models of color wear the white dresses which resemble churches, carry the antitrafficking message "A Temple for Soul". An older photography conception of Dimitris Grammatikoyiannis, Beyond Tolerance (fashion editorial of ethicalode.com against women harassment )is projected on the symbolic garments.
CROSS CREW – CHRISTINA BRAMPTI.
The dynamic duo of fashion designer Cross – crew and jewellery designer Christina Brampti really proves how the cooperation helps for the perfect match.
Woman is hymn in Crete:Krissa Olga Markaki
Carments and jewelry which make an ode to tradition but in modern aspect.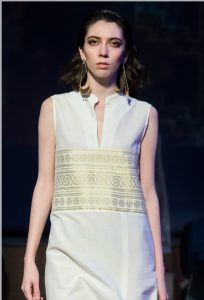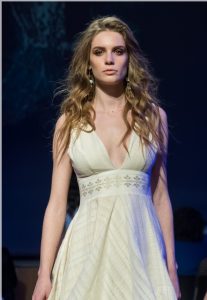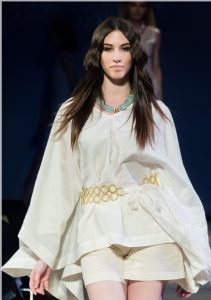 Aurelia Aqua Collabs
Beachwear is synonymous with the Greek Summer!
Sun glasses Mujosh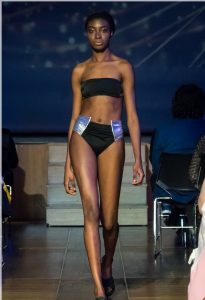 as well as dresses and jumpsuit in loose shapes below the sky…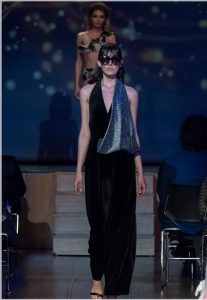 Niki Mantika is the soul of Aurelia Aqua Collabs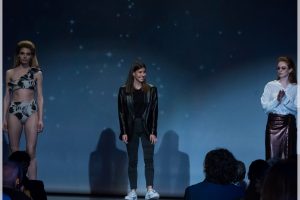 Ekoh Studio & Marina Angelaki
The geometric shapes, forms and construction of their garments and jewelry are as contemporary as classic.
Evi Fragaki presents the fashion designer Tatiana Makri and jewelry designer Marina Angelaki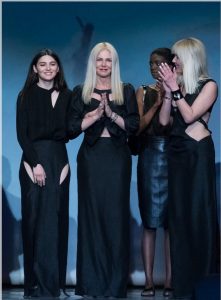 V&R by Vasilis Borsis
Vasilis Borsis' obscure models hold with passion the Object of Desire, his bags.
OLGA KARAVERVERIS
Commedia dell'arte show with optimistic colors and motifs!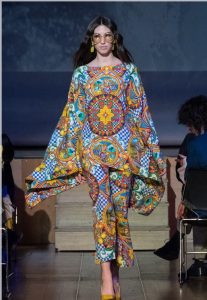 Giannetos/History
The last but not least show, was from the legendary brand Giannetos.The historical fashion house, since 1907, presented looks wth references from 30's, 50's, 70's and the most contemporary trends up to now .But this was not enough for Takis Giannetos and Dimitris Grammatikoyiannis who both of them were deeply moved by Julian Assange arrest. Their will to defence the right of free speech in an open society defines the hashtag that presented on tuxedos and 3d mapping #freespeech.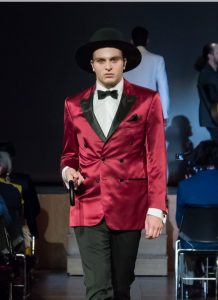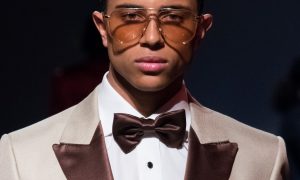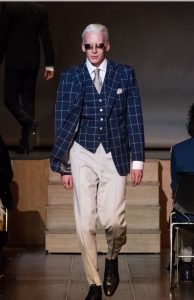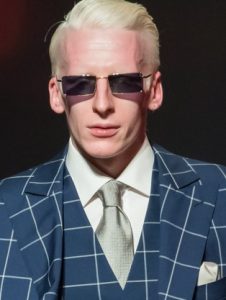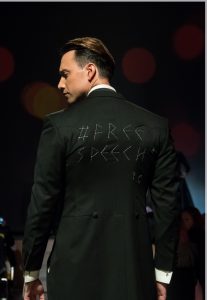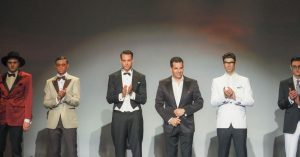 Takis Giannetos at the end of the show.
Founder: Ιωάννα Πατσουλάκη – Ioanna Patsoulaki
Director: Αντώνης Σωτηρόπουλος – Antonis Sotiropoulos
Director & line up: Μαρία Δεληκωνσταντίνου – Maria Delikonstantinou
Concept editor-Stylist: Δημήτρης Γραμματικογιάννης- Dimitris Grammaticoyiannis
Hair creative director: Αικατερίνη Μεσήρη – Aikaerini Mesiri
Hair styling: Hair Salons Ilias & Staff
Makeup artist team: Freddy makeup stage
Music editing: Μιχάλης Καλφαγιάννης
Sound support: Παναγιώτης Ψύχας
Production manager: Emy Papas
Video mapping: Ερατώ Τζαβάρα
Graphic Designer: Ραλλού Δεληκατερίνη
Co-ordinator: Άντζυ Νομικού
Publιc Relation: Μαρκέλλα Σαράιχα
Special thanks to PanSik Fashion School
Shoes sponsor: Tsakiris Mallas shoes
Hats sponsor: Karfil.gr
Photos: Giannis Vlaseros ( Catchthemoment ), Georgios Marinakis (Olympus Visionary ).