Editor: Vasiliki Grammatikogianni
Organized in collaboration by Bonner Kunstverein , Kolnischer Kunstverein and Kunstverein fur die Rheinlande und Westfalen, Dusseldorf "Maskulinitaten" is an international exhibition
with a series of events and accompanying publication project that explores the subject of masculinity via contemporary art. Presentation is premised by an interest in questioning
how a feminist exhibition on masculinity could look. Conceived within the context of prominent and reactionary manifestations of masculinity and with an irreverent, uncompromising critique of its hegemonic forms, the collaboration aims to destabilize
patriarchal and heteronormative notions of gender. Including public artworks, performances, plays, readings, lectures, screenings and workshops the exhibition seeks to open up alternative spaces of agency and bring performative and transgressive conceptions
of identity, sexuality, gender and the body to the fore. The three institutions share a history in variously presenting radical, feminist and queer exhibitions. Whilst many of these focused
on reclaiming femininity and female experience from a history of male authorship, this project turns its attention instead to the male subject. The exhibition and the accompanying program explores shifting perspectives on the representation of the body, the associated politics of power and visibility, and how these are negotiated and deconstructed in art from the 1960s to the present. Encompassing artistic and art-theoretical perspectives from
different contexts and periods, masculinity is encountered as a complex, evolving, a social construct that remains in continual flux. Ethical Ode.com was invited by NRW KULTUR INTERNATIONAL. Eva Lenhardt head of International Visitors Programme with Wilko Austermann guided us to the exhibition in Cologne and Dusseldorf.
Juliette Blightman transplants a cactus into a urinal.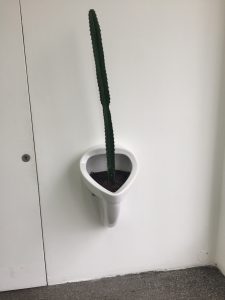 In order to make her art accessible to a broad audience, Jenny Holzer printed t-shirts with feminist slogans. Vato Urushadze, curator from Georgia presents a t-shirt with a logo on.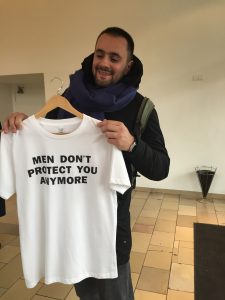 The work 'Get tested today', deals with the sexuality transmitted disease syphilis.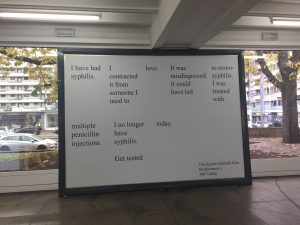 In her work 'Let's take back our Space. Female and Male Body Language as a result of patriarchal structures', Marianne Wex explores gender-specific gestures in social structures in a humorous way without taking away the sharpness of the analysis.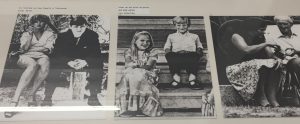 Despite the fact that pictures are from 1970s publications, they still seem alarmingly contemporary. At Kunstverein fur die Rheinlande und Westfalen in Dusseldorf, Eva Birkenstock guided us in the exhibition.